2023 Top 20 Biggest Wholesale Jeans Suppliers in the World
Posted by HALLEY ZHANG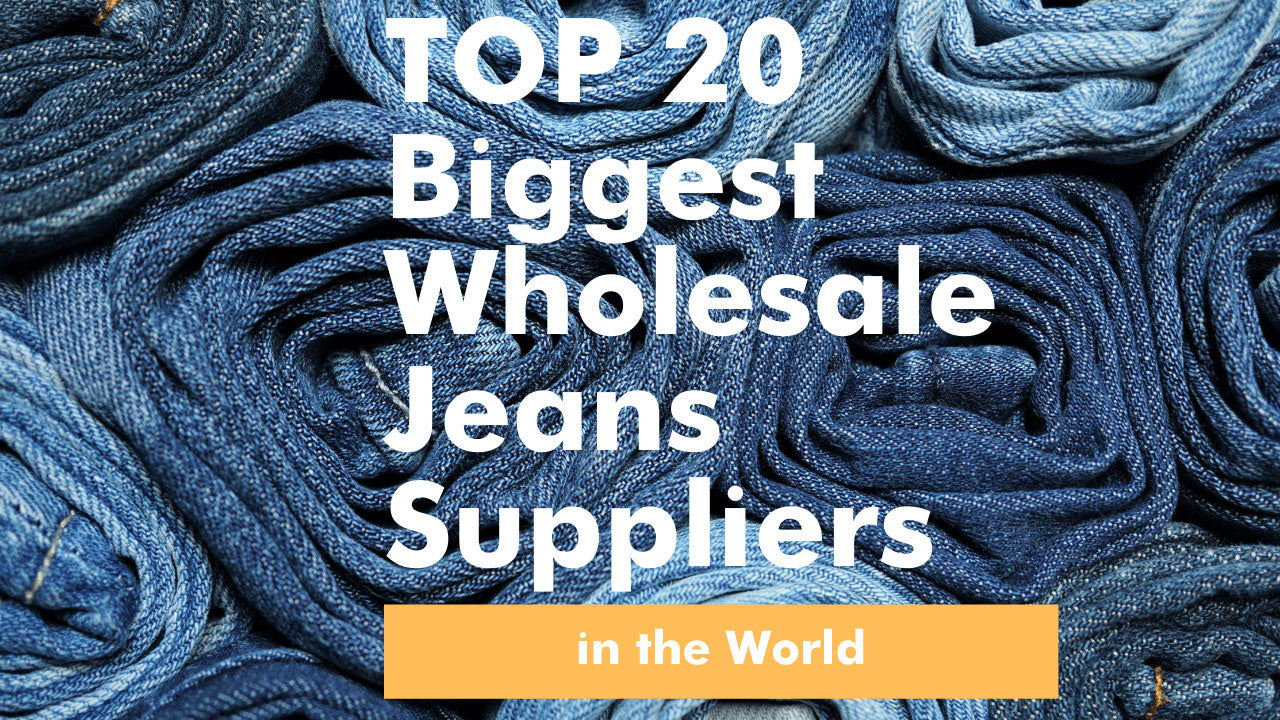 We are ready to reveal the top 20 biggest wholesale jeans suppliers in the world for 2023. The list below gives the need-to-know details on some of the best in the business this year. Plus, you can find out how to become a buyer for some of these jean vendors. 
HiHalley is ranked the number one biggest wholesale jean supplier in the world. With years of industry experience, they have earned a respectable space in the world of wholesale fashion. 
One of their top pull factors is the number of designers and styles they carry. Their site offers over 1000 styles, making it easy to find jeans that fit every store's aesthetic. They also offer 3 to 5-day international shipping to over 80 countries making last-minute orders a breeze.
If you happen to live near the Fengze district of Quanzhou, China, you also have the option of shopping for their jeans in person. HiHalley currently offers women's and men's wholesale jeans, skirts, denim jacks, leggings, and more. 
Ranking number 2 on the list is wholesale supplier KanCan Jeans. This United States brand pulls people in immediately with their aesthetically please website. Aside from their minimalist web design approach, they offer some of the more comfortable form-fitting jeans on the market. 
KanCan Jeans are marketed towards fashion-forward women and are available in stores across the United States. To become a KanCan retailer, you can fill out a wholesaler application on their website. All you need is a verified business to be considered. If you live in a state with sales tax, a seller's permit is also required. 
Number three for wholesale of jeans in Judy Blue Jeans. Since its establishment in 1999, Juby Blue has built itself into a respectable competitor in the world of wholesale jeans. 
The supplier takes pride in creating jeans that are more than just stylish; the jeans provide comfort and confidence in every wear. Becoming a supplier of Judy Blue Jeans is not for the inexperienced. For your application to be approved, the company requires you to provide recent invoices from at least two recent wholesale vendors. 
One thing you can know for sure, this brand knows what it's doing. They offer an inclusive size range of 0 through 5X, making them compatible with any buyer.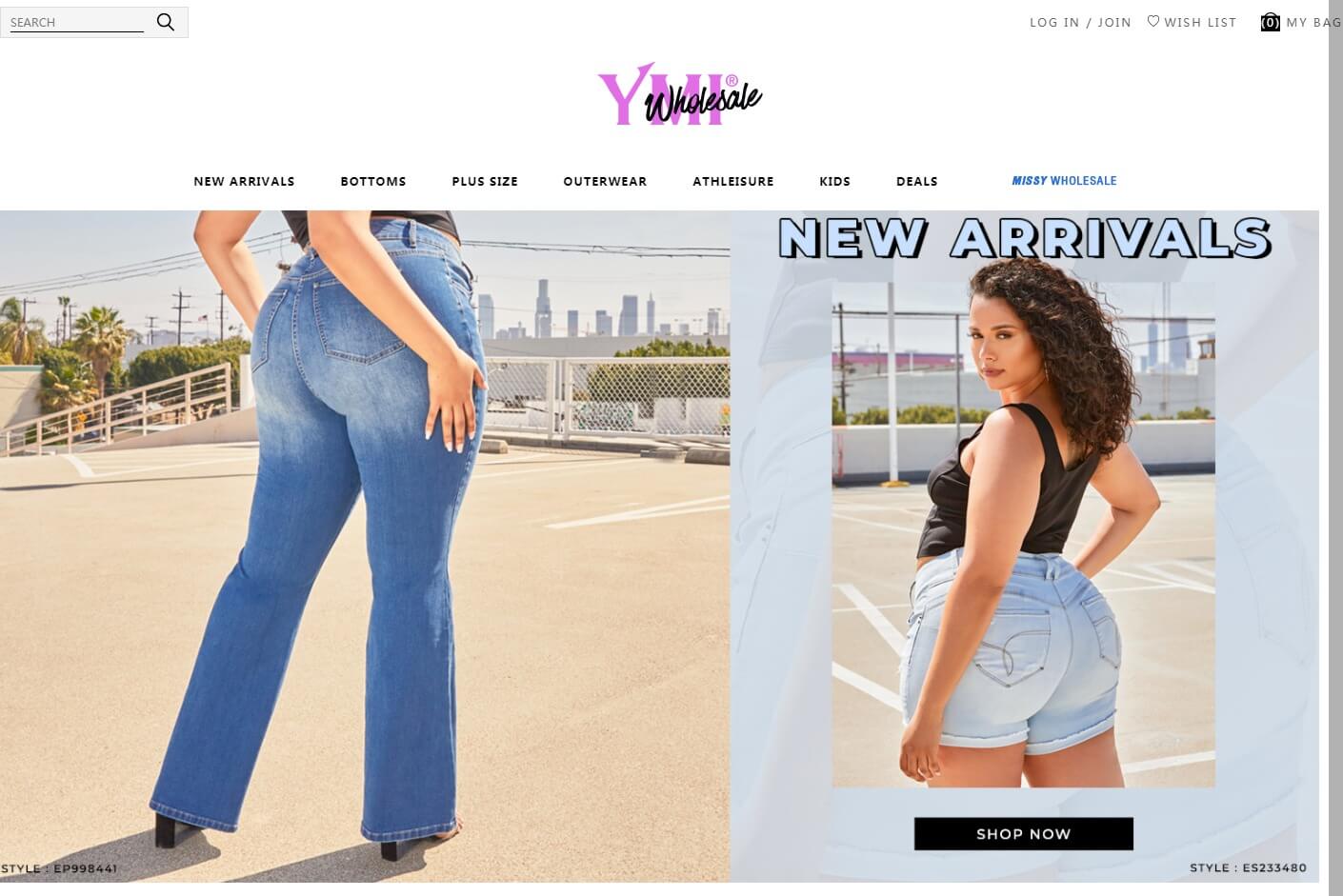 Los Angeles, California brand YmiJeans has made a name for itself in women's wholesale jeans since its establishment in 2000. The group of young entrepreneurs that founded YmiJeans dreamed of creating a youthful, fashion-forward jean brand that would cater to a broad audience. 
Today, they have done just that. The supplier is recognized across the United States as a Junior contemporary jean wholesaler and offers inclusive sizing with their plus-size collections. Since its establishment, the company has also expanded outside of jeans and currently offers modern designs across a multitude of products. 
LovelyWholesale is known for its extensive product collection stretching from jeans to jewelry. Since the start, the company has been committed to producing high-quality items that consistently fit the latest trends worldwide. 
On top of their commitment to fashion-forward styles, they have also dedicated themselves to keeping prices affordable - after all, fashion is for everyone and should be available to everyone. To fit their fashion-forward designs, LovelyWholesale creates all their jeans, and other products, at their factories located in two of China's most fashionable cities, Guangzhou and Shanghai.
The fashion wholesaler also provides a list of quality shipping plans to fit the buyer's every need, including free shipping for new users with orders of $49.99 and regular users with orders over $99.99. 
With just over a decade of being in the industry, Cello Jeans Wholesale has risen to success, landing at number 6 on our list. Since its start in 2007, the company has created stellar jeans for wholesale. 
The company has lived up to its original mission by creating inspired denim with authentic washes and trims, extensive attention to detail, and comfortability. 
The current size range offered by Cello Jeans goes from size 1-13 and small to X-large in US measurements and includes a plus-size collection including 14-22 and 1X-3X. Styles and cuts featured on the website include skinny, crop, high waisted, flared, boyfriend, mom, straight, flare, plus skinny, plus crop, and plus flare. 
JC & JQ Jeans is located in the famous fashion district of Los Angeles, California, inside the San Pedro Wholesale Mart. Loved for their affordable prices and fashion-forward styles, JC & JQ can be found at some of your favorite online and storefront retailers. 
This women's wholesale jean supplier is committed to keeping their products current and comfortable while remaining at accessible prices. Their primary demographic is the younger generation of buyers, Millennials and Gen Z, and they know exactly how to keep these consumers coming back for more.  
At number 8, Insane Gene USA has earned its high spot on the list. The wholesale women's jeans company owner has had years of experience in the industry and witnessed the worst of it. After understanding the hardships of child labor in the industry, the owner of Insane Gene created the company to right the wrongs they had seen.
Insane Gene designs high-quality denim at great prices, and each pair has a heartfelt story behind it. The company's vision is to use the industry as a way to give back to children around the world stuck in unfortunate situations by donating a portion of their profits. 
Fashion Go is a one-stop shop in terms of wholesale suppliers. On top of being an excellent place for bulk products, they also sell a wide range of items, including wholesale men's jeans and kid's styles.
Since its establishment in 2002, Fashion Go has risen to be one of the top global wholesale platforms. They provide over 1,400 sellers on their site that currently caters to over 740,000 buyers. With such a vast number of sellers, the site can update with new looks and jean styles daily. They often add over 30,000 unique products every seven days, including new wholesale jeans for men's and children's categories. 
Another Los Angeles-born company, Nina Rossi Jeans, makes it on the list. Since 2003 the bulk jeans supplier has been committed to creating high-quality jeans and impactful relationships with buyers.
Nina Rossi is passionate about the industry and hopes for the success of all clients ready to stock their stores. The company focuses on building business relationships that last while providing jeans that sell. 
Nina Rossi jeans' high-quality stretch denim material makes for comfortable form-fitting styles to compliment every body type. You can find wholesale items from Nina Rossi on their website, as well as on Fashion Go. 
One of the longer-running wholesale jean suppliers, Diamante has been around since 1973. Since the company has pioneered fashion in many categories across wholesale jeans for women's and children's departments, Diamante Jeans is a staple in the wholesale industry.
The company's mission is to bring worldly styles and high-quality materials that provide satisfaction to their customers. The staff members are trained quality inspectors and designers to remain transparent in the company's high-quality promise. 
They have managed to have continued success over many decades in the industry by sticking to consistent production times without compromising value or quality. 
Muselooks provides style, comfort, and mobility in each wholesale jean they offer for the everyday woman. Another supplier located in Los Angeles, California, the brand will make every buyer feel a bit of the west coast lifestyle. 
The company currently offers women's wholesale jeans in styles including boyfriend, mom, high rise, skinny, mid-rise, and ripped. For all jeans, whether high-rise or mid-rise, Muselooks offers an inclusive range of sizes from 1-15. To register as a buyer, all you need to do is submit a registration form on their website. 
Flying Monkey Denim is where contemporary, young style meets curve-hugging denim. Since 2004 this wholesale jean supplier has set standards in the industry—the jean for every woman and the wholesale for every buyer.
The brand is known worldwide for making its mark in the industry by providing high-quality jeans that complement all body types and curves. Some of their comfortable and fashion-forward jeans options right now include skinny, straight leg, wide leg, flare, mom, boyfriend, and boot cut.
Standing out from the rest, Flying Monkey Denim also offers super high rise, high rise, mid-rise, and regular rise so every woman can find comfort in her jeans. 
Based out of Los Angeles, California, Risen Jeans has made its way to one of the top global wholesale jean suppliers. One goal of each pair of denim is to create jeans that embody the calm and connectedness of California's style sense. 
They take great pride in creating wholesale jeans that are not only aesthetic and cool but functional and wearable for the everyday girl. They currently offer styles in skinny, mom fit, flare and wide, and straight denim. For anyone looking to capture both everyday and city chic in a single style, Risen Jeans has the denim for you. 
Coming up on its 10th year in the industry, Vibrant has lived up to its name. Since 2012, the company has been raising the bar in the industry right from downtown Los Angeles. The company has been committed to keeping up with the fast-paced environment of fast fashion trends and has so far succeeded in doing so. 
One thing setting Vibrant apart from the rest is its commitment to the community. As a local business themselves, they try to source locally whenever possible and continue a loyal relationship with their community. 
When buying from Vibrant, you can be guaranteed a timeless fit with high-quality materials. The company's website is currently featuring styles ranging from flare, relaxed, distressed, and non-distressed denim.
Denim Zone has centered itself in the niche of high-wasted wholesale jeans. The company has committed itself to help buyers grow their businesses by providing great quality denim at affordable prices.
With a mission to help others grow their businesses, Denim Zone offers their jean styles in a wide array of colors and sizes. Their website showcases one-of-a-kind collections for the one-of-a-kind woman. From boot cut to distressed, from curvy to skinny, every woman can find something beautiful from Denim Zone USA.
Sneak Peek Denim is a reputable women's wholesale jeans company based in Los Angeles, California. The brand offers generous deals to its buyers and periodically holds pop-ups at numerous showrooms across the country.
With Sneak Peek denim, you can find in-the-moment styles ranging from the wide leg, flare, skinny, bootcut, and straight cuts. The brand has made it simple to set up a buyer's account on their website. All you need to do is input your business information, and you can begin purchasing jeans within just a few days. 
Crafted in Los Angeles, California, I&M Jeans has been in the industry since 2010. The label is committed to bringing each buyer the best of products and accomplishes this through their carefully planned production process. 
I&M Jeans believe in making every person feel like the best version of themselves by wearing their jeans. They offer an extensive list of styles for occasions ranging from sophisticated nights out to playful days on the town. They even offer wholesale denim jackets and jeans in bulk. With empowered people pouring love into every design, they hope every buyer feels just empowered with every purchase. 
It should be of no surprise that LA Showroom has made the list. They describe themselves as a premier wholesale fashion marketplace, and they aren't wrong. The company brings on new sellers and designers every week, meaning the unique styles and options - including men's wholesale jeans - never stop. 
LA Showroom can be counted on for consistent updates in styles, sizes, and fits for jeans in wholesale. The company also offers great incentives for joining as a buyer with a rewards program and special access to showrooms. 
They offer a wide variety of products, including children's and men's jeans wholesale, as well as footwear and accessories.
Finishing off the list strong is LTJ Apparel. The label creates fashionable and comfortable designs for women ranging from 20 to their 50's - a line you can grow with. Carrying sizes 0-16 in styles like skinny, straight, wide leg, crop, and high-rise, no matter what age or size you are, LTJ has a fit for you. 
LTJ Apparel is committed to romanticizing wholesale jeans and encourages buyers to do the same. Crafted with passion, dreams, and love, each pair of jeans speaks a different story of ambition and success.